The Rushall Dragon
Welcome to our Rushall Dragon page.

The Rushall Dragon is our school newspaper that is produced by some of our fantastic Year 5 pupils. It comes out every half term and provides an exciting insight into life at our school!
This year, we have decided to embrace creativity and technology by developing the first Rushall Dragon blog. After developing our school newspaper over the past few years we have realised that an increasing amount of people stay up-to date with current affairs online as opposed to a printed version. We too want to adapt in an ever-changing world and will now produce a weekly blog. Please can you inform us of any ideas or suggestions for our new blog.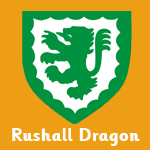 Previous editions:
2016 - 2017
Autumn 1 - Issue 1
Autumn 2 - Issue 2
Spring 1 - Issue 3

2015 - 2016
Autumn 1 - Issue 1
Autumn 2 - Issue 2
Spring 1 - Issue 3
Spring 2 - Issue 4
Summer - Issue 5
2017 - 2018
2018 - 2019
Meet the team
Meet our new Year 5 reporters! You can read more about them in the Spring edition.