Vision
To inspire children by providing a visually rich and stimulating, enabling environment

To teach art skills enabling all children to have a positive experience and to achieve

Children will be independent, expressing their own ideas with confidence

Children will acquire knowledge about art and culture and how these have changed over time

Children will be able to access high quality resources including technology

Children will aspire to be the fine artists, graphic designers, set designers, film makers, photographers, and fashion designers of the future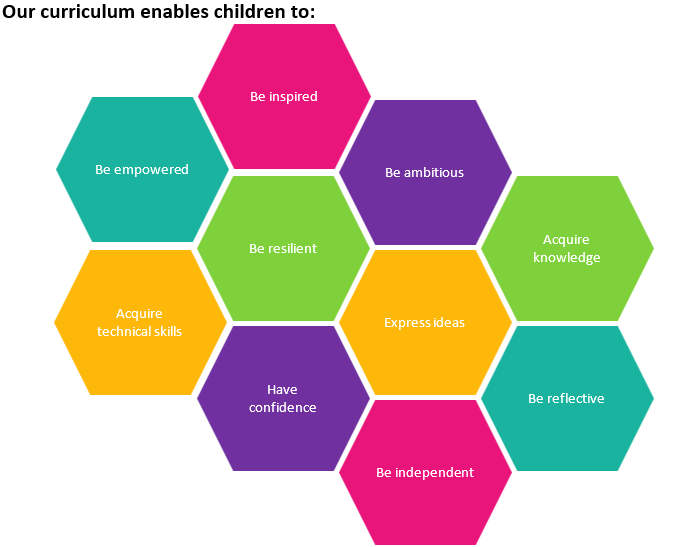 Children will:

Develop skills in a broad range of disciplines including drawing, painting, printmaking and textiles, sculpture, ceramics, and digital media

Use sketchbooks, journals and technology for independent research / formation of ideas

Use their knowledge and skills to select their own medium and materials to work with according to their intentions and plans

Constantly seek to improve their work by editing/ evaluating and starting again as necessary

Gain knowledge and understanding of significant movements in art history from stone age to present day and the associated artists
Our Art and Design lead is Mrs Lisa Farrington
At Rushall we have high expectations of our children and take care that they are not over supported when they are taught art. The following things are fundamental to our teaching of art:
The process is as important as the outcome

Children need time and space to experiment and explore

Art work needs to have a meaningful purpose for the children

The children's ideas should be nurtured and developed

An individual response is always encouraged
(from January 2020)
Children will:
apply skills learned in a broad range of disciplines including drawing, painting, printmaking and textiles, sculpture, ceramics, and digital media to achieve desired effect

use sketchbooks, journals and technology for independent research / formation of ideas, making notes and sketches, taking photographs to use in their work

use their knowledge and skills to select which medium and materials to work with according to their intentions and plans

seek to improve their work by editing/evaluating starting again as necessary

have a sound knowledge and understanding of significant movements in art history from stone age to present day and the associated artists
Art History
In Key Stage 1 children will learn about significant artists and links will be made where possible to their practical work. In Key Stage 2 this knowledge will be built on as children begin our art history curriculum, learning about significant movements in art in chronological order from the stone age to present day contemporary art.