Easter Holiday Activities Programme
Easter Holiday Activities Programme
5 March 2021 (by Helen Jones (helen.jones))
Is your child receiving FREE SCHOOL MEALS? If so, read on.... Walsall Council is running an Easter Holiday Programme which will provide free meals and activities for eligible free school meal children and their families across Walsall.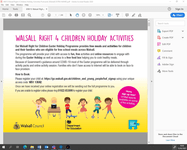 The programme will provide your child with access to fun and free activities and online resources to engage with during the Easter Holiday as well as access to a free food box helping you to cook healthy as a family during the Easter break.
Because of Government's guidance around COVID-19 most of activity programmes will be delivered through activity packs and online activity session. However for families who have not got access to internet there is some face to face COVID safe provision available.
You should have received the below postcard in the post, which contains your child's unique access code. In order to access the Easter programme you will have had to register your child by Friday 12th March 2021.
If you have lost your postcard or don't think you have received one but your child does access free school meals, email WR4C@walsall.gov.uk stating your child's name and their date of birth, and the Easter Holiday activity team will send you your unique reference number.
For any other queries visit the website; https://go.walsall.gov.uk/children_and_young_people/haf_signup or ring the holiday activities helpline on 01922 653899.