FREE summer holiday activities - Walsall Council
FREE summer holiday activities - Walsall Council
4 July 2022 (by Helen Jones (helen.jones))
Information regarding Walsall HAF programme.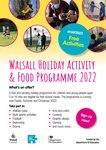 Are you wondering what to do with your children this summer?
Walsall Council is running a vast array of FREE activities over the Summer Holiday for eligible children aged 5 – 16 years old.
Sessions will include a variety of fun activities, including sports, music, arts and other exciting opportunities to learn and develop skills like meeting new friends, alongside a nutritious meal each day.
You can select activities that run for 4 hours a day, 4 days a week for 4 weeks of the summer holidays OR there is a Pick and Mix option where you can select stand alone activities for one off days.
Your child is eligible if they meet the following criteria:
*Are in receipt of benefits related free school meals
*Has an EHCP
*Is on a plan, e.g. Early Help, Child in Need (CIN), Child Protection (CP)
Registration and bookings opens TODAY - 4th July 2022
Miss Faulkner, Miss Rea and Mrs Jones will be making contact with eligible families to help get as many of our children signed up and engaged in these wonderful activities!
For more information visit:
https://go.walsall.gov.uk/children_and_young_people/haf_signup
OR...
EMAIL: WR4C@walsall.gov.uk
PHONE: 01922 653899 10am to 4pm Monday - Friday
TWITTER: @Walsallfamiliesintheknow #HAF2022 #WR4C
FACEBOOK: Walsall for ALL